Have you been struggling with anxiety, depression, life transitions, and are looking for the next step to help you with your mental health issue? Are you thinking that it is time to make some changes in your life to feel better and happier? If so, that is a sign that you may be ready for professional help from a therapist. counselor, psychologist, or psychiatrist. Making the decision to seek mental health therapy or counseling is an important step towards improving your emotional well-being, and it can be a daunting one. You have already the important decision to find a mental health provider who can help you feel better, now the next step is looking for a good therapist near you.
This article will give you different ways to find a good therapist near you to help address some of the mental health challenges you have been facing. Keep reading for twenty ways on finding a counselor who can help you obtain the life you have always wanted to live.
Identify what you are looking for help with from a therapist.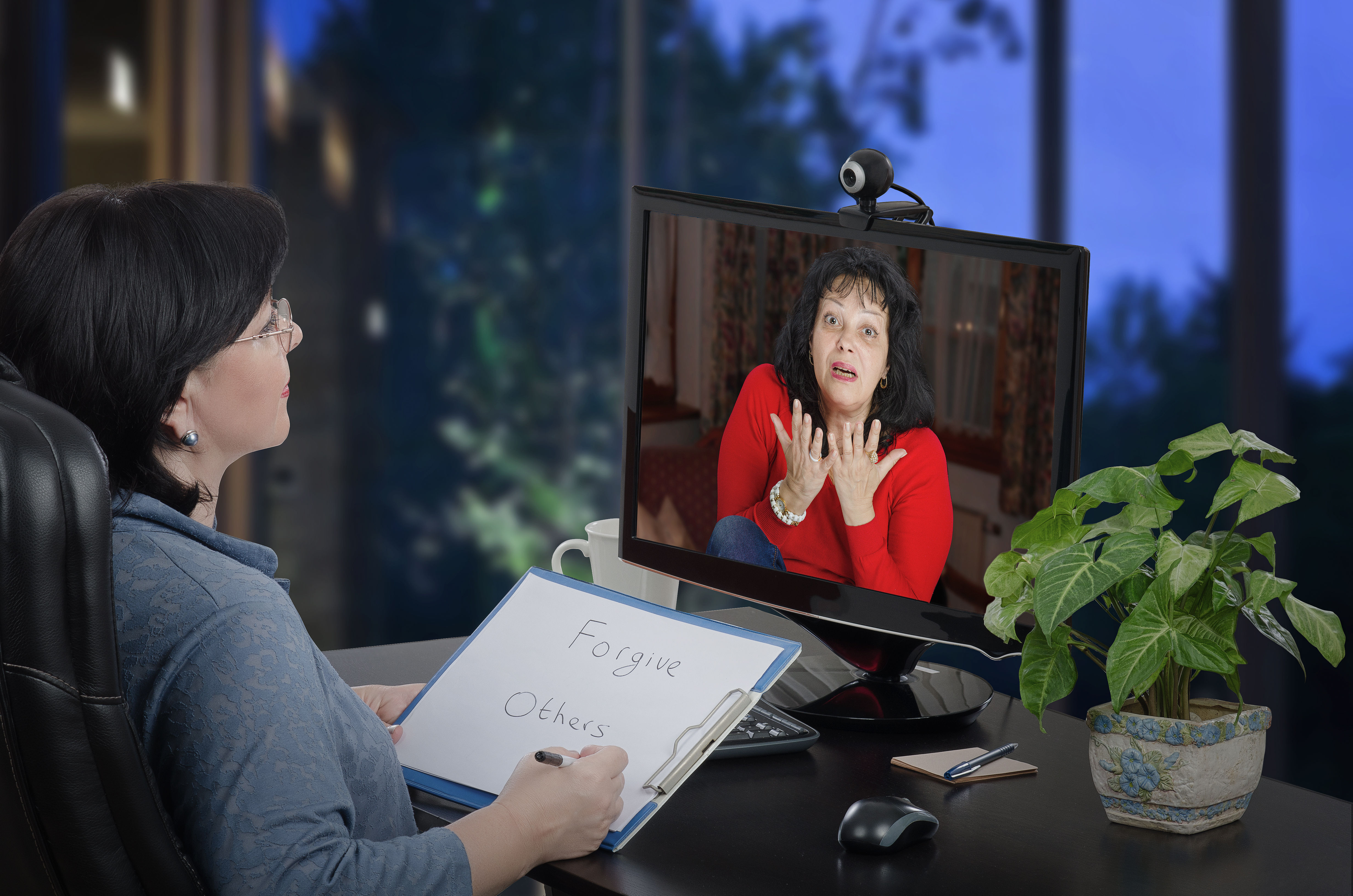 Before you begin searching online for "How do I find a therapist near me?" the first step is to begin identifying what you are seeking help for. Are you looking for advice following a recent transition, job loss, or divorce? Are you seeking counseling for an established mental health diagnosis, such as anxiety or depression? Or are you looking for additional coping skills and stress management techniques to help you with daily life stressors? Therapists, counselors, psychologists, and social workers all specialize in different areas of mental health. There are individual therapists, marriage and family therapists, couples' therapists, substance abuse counseling. Additionally, is this mental health problem something that you would like to work individually with a therapist on or is it something you would be comfortable working within a group setting? Some therapists offer individual counseling while others offer family and group therapy. Knowing what you want help with is one of the first steps to identifying a therapist that is skilled in helping people like you with similar concerns.
Think about what type of therapy is the best fit for you.
This goes right along with finding a therapist who works with someone with similar problems as you. Just as there are different counselors with various specialties, they often utilize different therapies or therapy techniques to address their client's problems.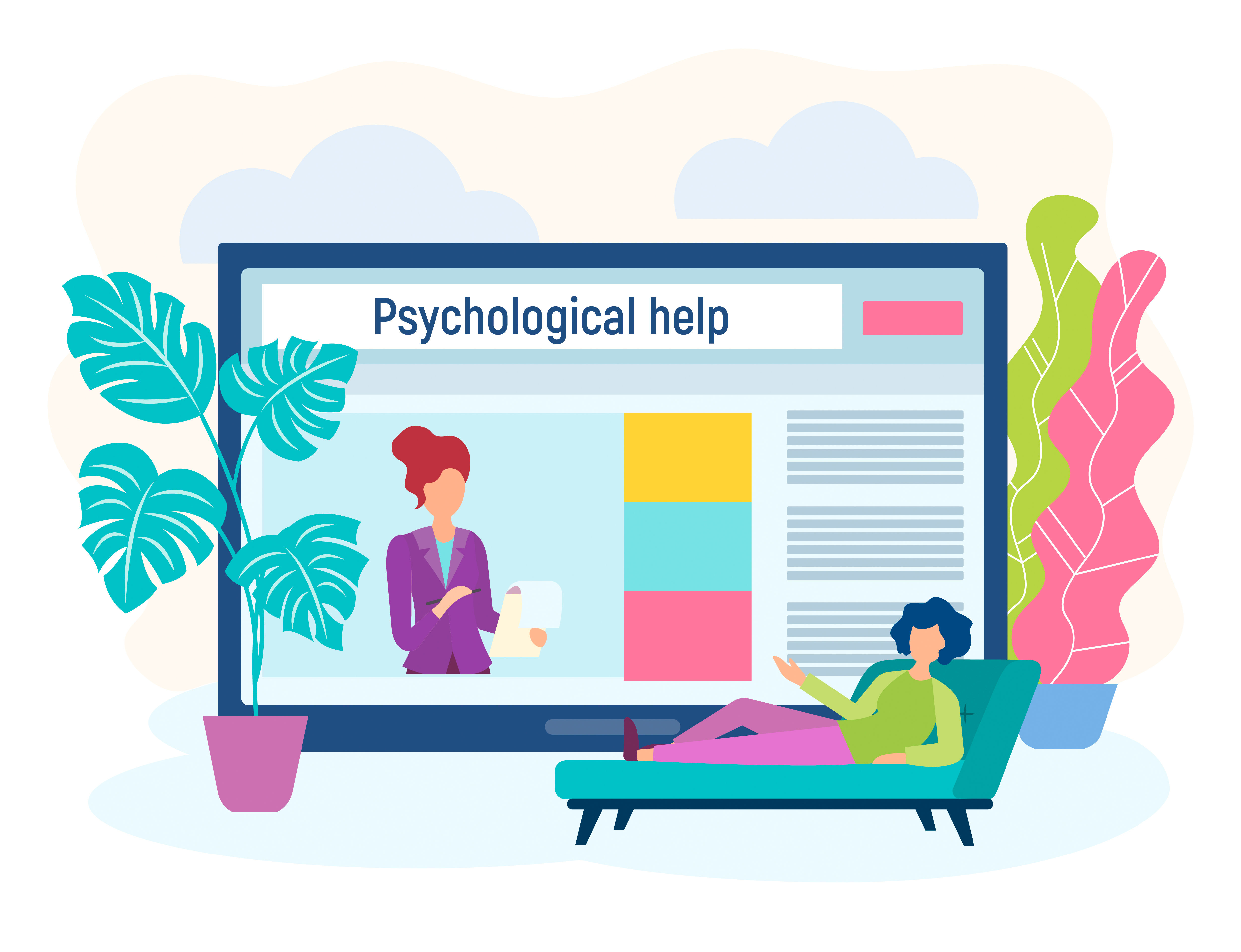 If you are struggling with anxiety and depression, similar to many other people, seeing a licensed clinical social worker, licensed professional counselor, or psychologist could be a great fit for you. Many of these therapists use techniques from cognitive behavioral therapy to address the root cause of your mental health issues.
Similarly, there are therapists who see clients in outpatient settings and inpatient settings. Outpatient settings may be most appropriate for clients who are dealing with life stressors, transitions, moderate anxiety and depression. Inpatient settings provide more intensive treatments for people with significant mental health concerns such as bipolar disorder, suicidality, substance use, and more. If you are unsure what type of therapy or environment is the best fit for you, your potential therapist should be able to help guide you in understanding the differences.
Figure out what type of mental health professional is the best fit for therapy with you.
When you start your search for a therapist, you will notice that mental health professionals have a lot of different educational backgrounds. You will begin to notice that psychologists (Ph.D. or Psy.D), marriage and family therapists (MFT), licensed professional counselors (LPC), and clinical social workers (LCSW) all vary in their education and degrees. It is important to look for a provider that is either licensed or being supervised by a licensed mental health provider, as they are legally bound to provide ethical treatment practices. When thinking about what type of mental health provider to choose, it may be helpful to think about why you are seeking therapy and what type of help you want with therapy.
For example, psychologists can complete psychological evaluations, learning disorder evaluations, neuropsychological testing, and diagnose mental health conditions. Psychologists typically have a doctoral degree from a university and have had extensive clinical training in mental health concerns. Some psychologists also prescribe medication, dependent upon the state that you live in. In addition to psychological evaluations, many psychologists provide therapy and have a wide range of abilities in treating clients with mental health disorders. Before becoming licensed, they must receive adequate training, education, and experience.
Psychiatrists are a type of mental health professional who often prescribe medication and will also provide therapy. Psychiatrists must complete medical school, residency, and a specialized fellowship. Psychiatrists also have significant experience with diagnosis and treatment of a variety of mental health issues.
Clinical social workers and licensed professional counselors receive extensive training in therapy in a variety of settings. Clinical social workers and licensed professional counselors can work in a hospital, community mental health clinic, nonprofit, or private practice. They provide excellent treatment for individuals and families of all ages. Social workers and counselors usually do not prescribe medication, but they may be able to provide you with referrals to a doctor in your area that can prescribe psychiatric medication.
Marriage and family therapists specialize in helping couples and families who are having trouble interacting with others in their family. There may also be recent problems that have affected the family structure. These providers are especially skilled in providing couples and family therapy, although they can also see people individually for concerns like anxiety and depression.
Identify if you would like online or in-person options for therapy.
When considering different therapists, it's also important to determine if you would like to be seen by a therapist in-person at their office, or if you would do well with telehealth or virtual therapy options. Location is an important factor for many people when finding a therapist. It can make therapy accessible or difficult to attend. Many mental health services, such as therapy and psychiatry visits are now available online, reducing some barriers to receiving mental health treatment. Understanding the differences between virtual and face-to-face mental health treatment is important to consider.
Schedule a Free Consulation with a Therapist Today
Benefits and Cons of In-Person Therapy:
When many people think of therapy, they think of traditional therapy where you go to a clinician's office, meet with them every week or every other week, and return to their office as needed. In-person therapy offers many benefits. You may enjoy the social connection you get when you meet with a mental health professional in their office. Speaking to someone in person often has a more genuine feel than meeting with someone online. Similarly, some people prefer traditional therapy because it feels less awkward meeting someone in person than online. You can better read your therapist, their body language, and understand if you have a good relationship and connection with them.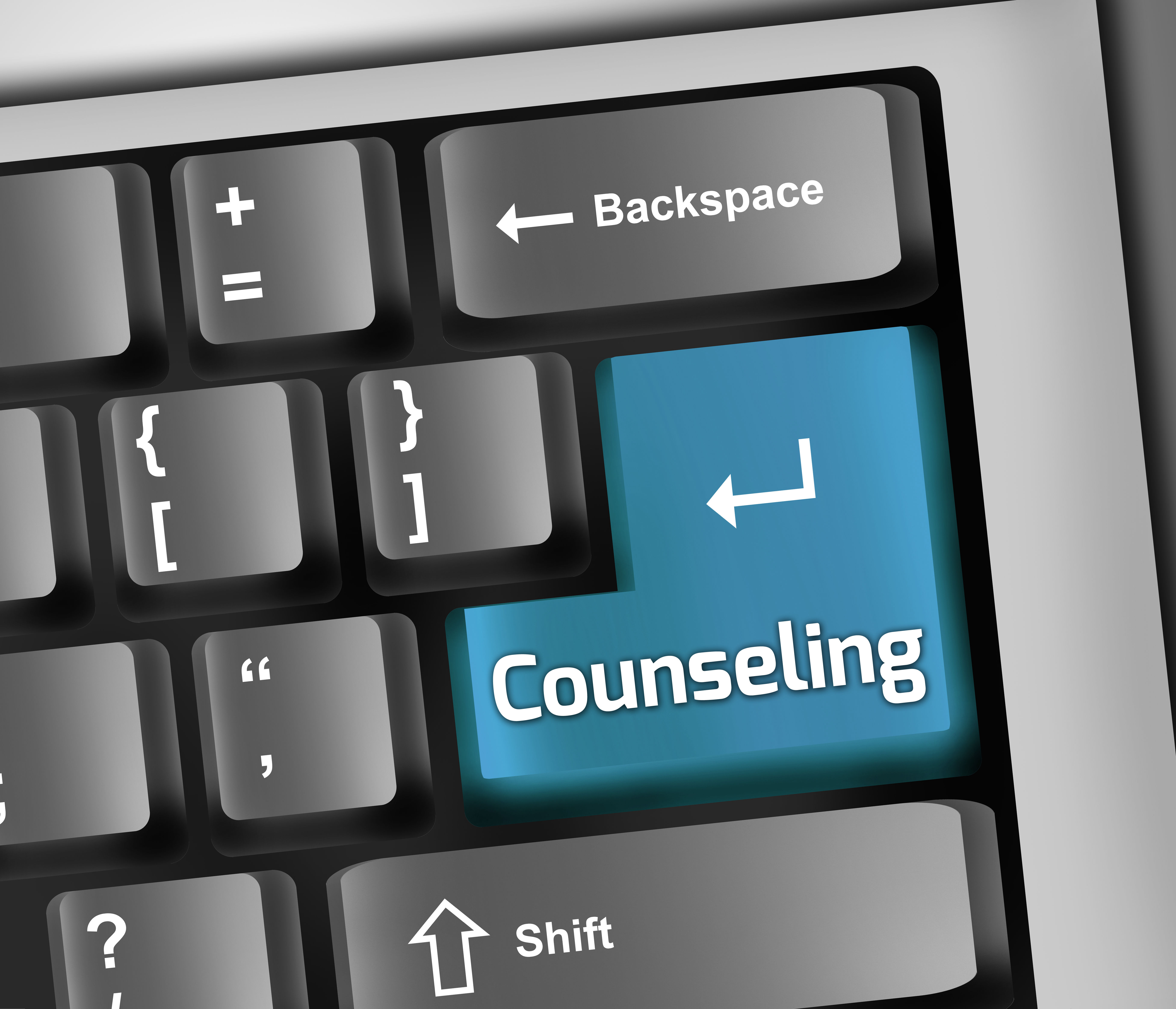 Some mental health concerns are also better addressed through in-person therapy than virtual therapy. For people with difficulties with social skills, meeting someone in-person can help with learning how to connect with others. For others with anxiety or obsessive-compulsive disorder, some therapy exercises (e.g., exposures) are often easier to practice when meeting with a therapist at their office. Some services, such as psychological evaluations, must also be completed in office in order for psychologists to be reimbursed for them. Because of this, some mental health providers may require you to come in-person.
Given that many people are working from home or remotely, many people are sitting at home in front of their computer or screen all day. After working all day virtually, the last thing you may want to do is log on for a therapy session. For this reason, many people are choosing to pursue mental health therapy at their counselor's office, if that option is available.
Although being seen by a therapist in a local office can be beneficial, there are also some possible limitations. For example, if you are seen in-person for therapy, you run the risk of being seen by someone in the waiting room or office of your therapist. This is especially possible if you live in a small or rural town that has limited therapists. If you do not want others to know that you are in therapy, you may want to avoid in-person therapy and instead seek a therapist online.
Benefits and Cons of Online Therapy:
Just as in-person counseling has many benefits, so does seeing a clinician virtually. Telehealth options have become even more available recently. Virtual therapy has the apparent benefit of the ability to participate in therapy wherever you are located from the convenience of your home. Being able to avoid traveling to an office for counseling can be a huge benefit for some people. Especially for parents, working professionals, and those who live far away from a mental health clinic, online therapy can make it easier to receive therapy. It can be difficult to see a therapist when you already have a busy schedule, but virtual therapy helps make it easier to fit therapy into your schedule. Unlike in-person therapy, online therapy may also offer more convenient times for you to see a therapist, such as on your lunch break, in the early mornings, or late evenings.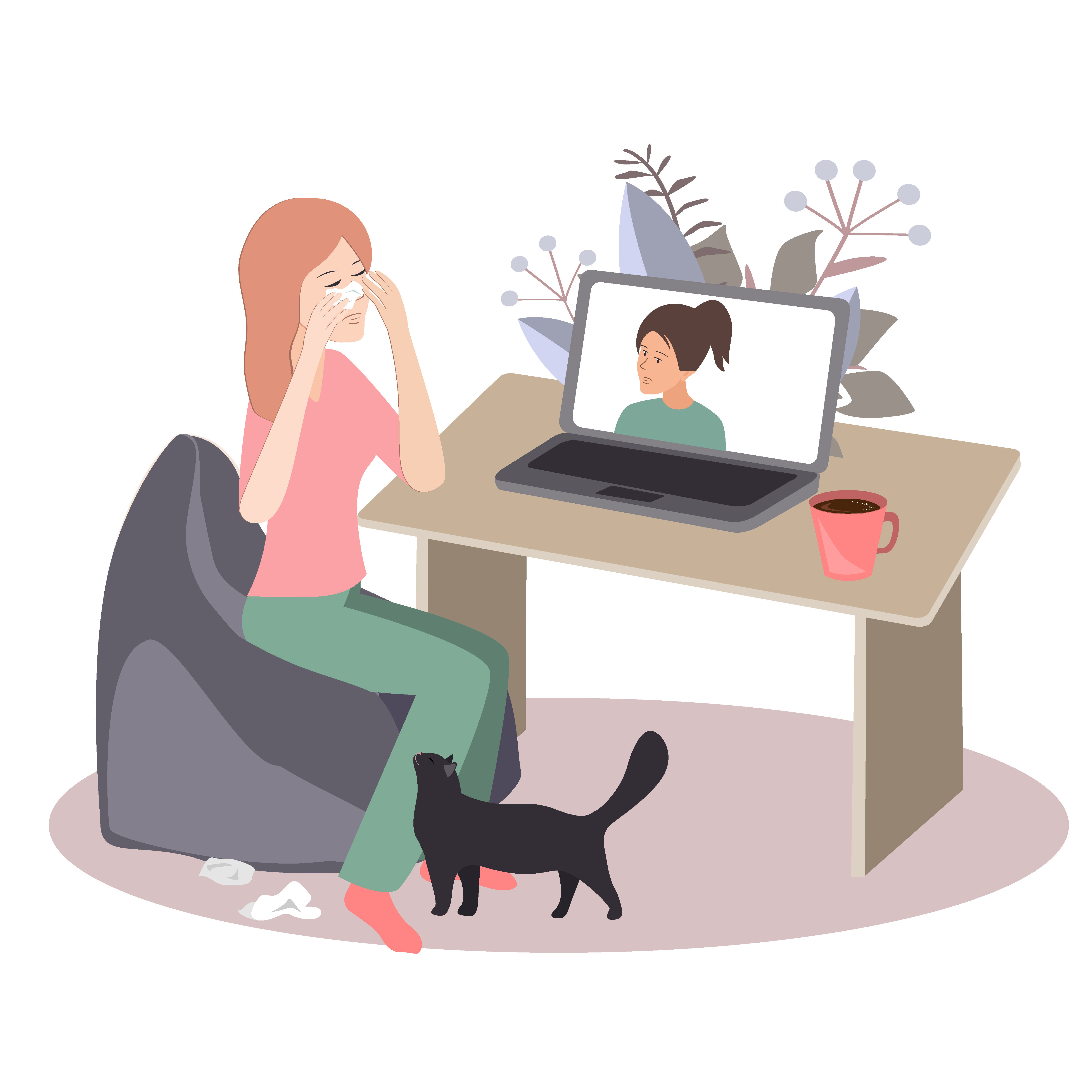 Many therapists at local clinics are offering telehealth therapy in addition to in-person services. If you are seeing a therapist in person, you may have the option to have some of your therapy sessions online. Additionally, with online therapy, you may have more options for the therapist you choose to see outside of your local community. Although it varies depending on the state you are living in, many states still require you to see a therapist or counselor that is located in your state of residence. This means that if you live in California, you must also see a counselor that is located and licensed in that state. Whereas with in-person therapy you may have been limited to only seeing therapists located within your city, online therapy opens up the option of seeing anyone within your state. This can also mean differences in the services you can receive as well as their cost, which is another important factor to consider.
Just as there are many benefits to online therapy, there are also limitations and cons. Depending on the severity of your mental health concern, your therapist or psychologist may not feel comfortable seeing you virtually and may recommend office therapy sessions. Additionally, being seen by a therapist or counselor virtually may make it more difficult to build a relationship with them in some ways. Some people may prefer building relationships in-person and may have trouble building the same relationship virtually. Additionally, telehealth does require the use of some technology to participate in online therapy. Although most telehealth sessions can be conducted on smartphones and computers, not having access to this technology can be a barrier to online therapy.
Determine your budget for mental health services.
Before trying to find a therapist near you, take some time to decide what your budget is for therapy. This is important because it will help you narrow down how you find a therapist. If you have an unlimited budget, you can choose to receive services from a private practice therapist who does not accept insurance, hospitals, or other treatments without worrying about the cost. If you do have a budget for a therapist, it is important to use that budget when finding the best therapist for you as there can be significant costs associated with therapy.
Traditional therapy, particularly if it is in person, may cost anywhere from $100-$300 per session. Although there are some therapists who offer sliding scale fees or pro bono therapy, it may be more difficult to find a traditional therapist within your budget. Sliding scale fees mean that a therapist will charge each session based upon what you are able to pay according to your salary. Pro bono therapy refers to providing therapy for free. Often, therapists and psychologists reserve a few spots in their schedule for pro bono therapy clients, who otherwise may be unable to receive therapy and counseling due to their budget but would benefit from it. Asking potential counselors if they offer pro bono therapy sessions, sliding scale fees, or financial hardship sessions will help determine if their mental health services are a good fit for you.
If you are more concerned about the cost of counseling, looking into budget-friendly options may be important. Several cheaper therapy options exist, particularly if you are okay with seeing a therapist virtually. The cost of counseling has reduced significantly with large online virtual platforms such as BetterHelp and Talkspace. These types of platforms offer cheaper therapy sessions, as well as unique text and chat support if you are unable to afford one-on-one therapy visits. You will know the cost of these appointments ahead of time as many offer therapy on a membership basis, and you cancel your membership easily and at any time. Some insurance plans also offer virtual therapy through different programs, such as Teledoc, which allow you to utilize virtual therapy while also using your insurance benefits.
Decide if you would like to use insurance benefits for counseling.
Consider if you would like to use your insurance benefits (e.g., Blue Cross Blue Shield, Aetna, Medicaid) when looking for a therapist to address your mental health needs. Many providers within these insurance plans are offering virtual and in-person therapy. If you are unsure of your mental health benefits on your insurance plan, it is best to contact your insurance provider to determine what type of therapy and therapy providers are covered under your plan.
Some therapists near you may be in-network providers with your insurance plan. This means that you may be able to utilize insurance benefits for your health plan and contribute these to your deductible. It may be beneficial to be able to reduce some of the costs of mental health treatment by seeing a therapist that is in-network with your insurance plan. On the other hand, utilizing your mental health insurance benefits means that you may be limited to providers who accept your insurance. Your mental health providers will also have to submit information to your insurance company in order to be reimbursed, which is a limit of confidentiality that can be a concern for some. Mental health professionals on your insurance plan may also have long waitlists and not meet your criteria for what you have already determined would be a good therapist for you. Because of this, it may be helpful to look for an out-of-network therapist.
Other counselors may not accept insurance and may be considered out-of-network providers. This is not necessarily a bad thing as you can often get reimbursed for out-of-network services to some extent by your insurance provider. It also means you do not have to be limited to providers who accept your insurance plan for mental health benefits. Instead, you have the freedom of choosing psychologists, counselors, and therapists based upon the types of mental health problems they specialize in, the therapy treatments they do, their counselor training and education, and any other personality characteristics that are important to you. If you choose to see an out-of-network provider, you may request a superbill from your psychologist or clinician, that you may then submit to your insurance provider for reimbursement. There are also online program, such as Advekit, that can help you understand how much you will be reimbursed when you see a therapist who is out-of-network.
Start your counselor search by reaching out to your doctor.
Now that you have a clear idea on what type of therapist is the best fit for you, how you would prefer to see them, and if you're going to use your benefits, you can start your search. Knowing where to find a therapist near you can seem like a difficult task at first. There are so many different options for mental health providers, that it is hard to know how you find one that fits your needs. The next step to finding a great therapist is choosing how to search for one.
Some people will start by asking their primary care physician for help with anxiety, depression, or difficulty sleeping at a routine physical. Your doctor can be a great starting point for helping you find a therapist that is right for you. They may already have a list of mental health professionals they commonly refer to in your area. Some insurance providers, if you're choosing to use your mental health benefits, may also require a referral from your family medicine doctor in order to begin therapy. If you do not feel comfortable asking your primary care doctor for help finding a therapist, there are other ways to find the best therapist for you.
Ask around for referrals for therapists who may be a good fit for you.
You may not want to discuss your decision to pursue therapy with friends or family. If you do feel comfortable discussing your mental health with them, it may be helpful to know if they have recommendations for therapists that are close to you or providing online therapy in your state. Word of mouth referrals for therapy can also be particularly helpful because someone you know has already experienced their services. If you have a friend or colleague who has a therapist, they saw in your area that was helpful, it may be helpful l to ask for their contact information. If you do not feel comfortable asking a friend or family member about therapy, there are other ways you can find a therapist without going through a doctor, friends, or family.
Search engines may also be good ways of finding a good therapist.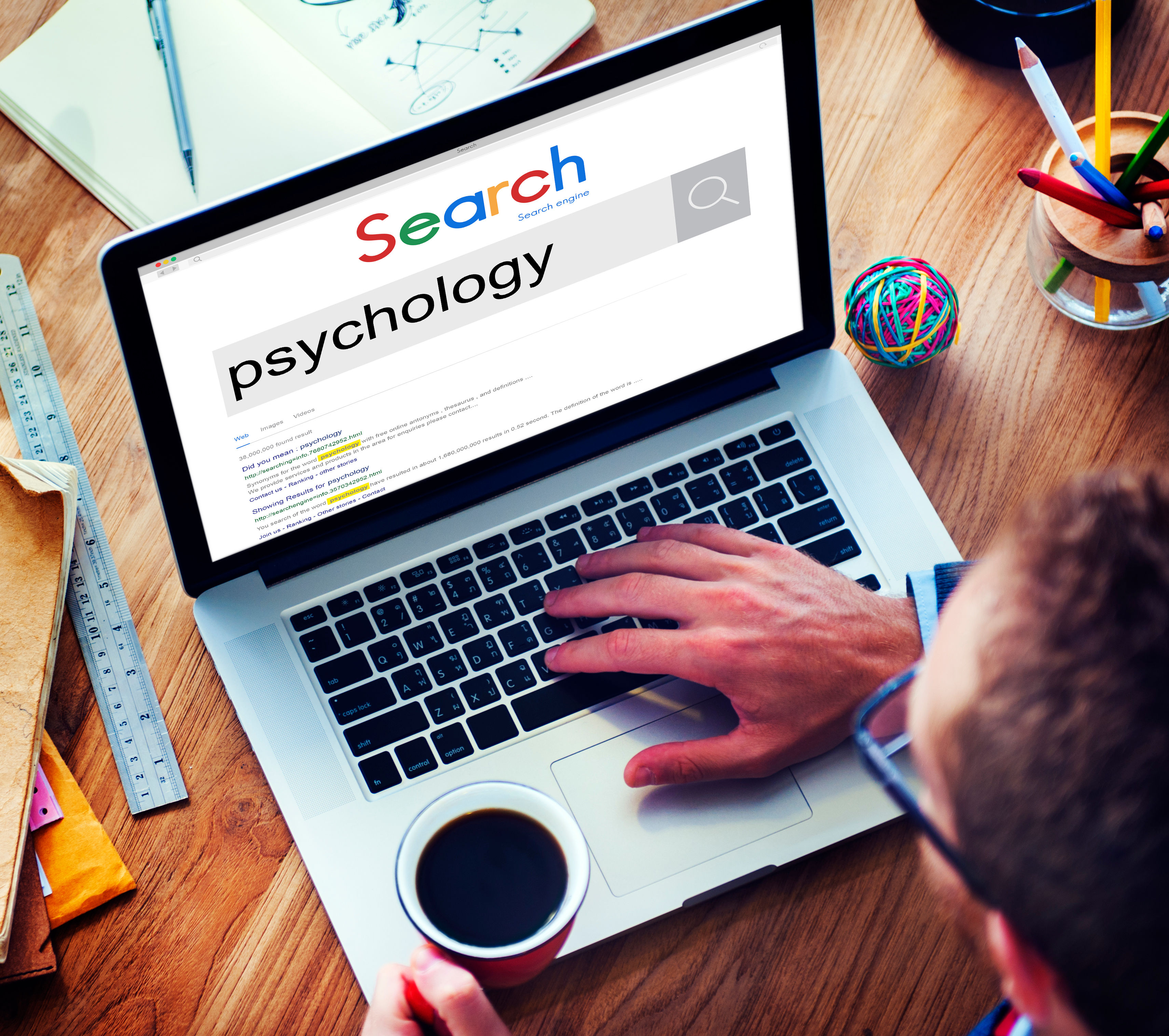 Searching online is also a common way that people find mental health referrals, and it can be done without letting others know you are looking for a therapist. You can start your search by doing a general search on a search engine such as Google. You could also search for mental health providers on mental health and therapist websites such as PsychologyToday.com or GoodTherapy.Org. Psychology Today is particularly helpful as it contains information about what therapists specialize in, their contact information, and their educational background. Some therapists on Psychology Today often include photos of their office and a short video so you can get to know them and see if their personality may be a good fit for you. There are also some websites related to specific mental health disorders that offer the ability to find a therapist near you who specializes in your mental health concern. As an example, Children and Adults with Attention-Deficit/Hyperactivity Disorder (CHADD.org) offers a network of professionals who specialize in the treatment of ADD/ADHD. On their website, you can find therapists through their search engine who provide therapy related to ADHD.
Look at national mental health organizations for information on counselors in your area.
Another way to find a therapist near you may be to find a list that has already been compiled by a national mental health organization. There are several national mental health organizations that have compiled lists. Some of these include the American Psychological Association, the American Medical Association, the Association for Behavioral and Cognitive Therapies, the National Alliance on Mental Health, and the Anxiety and Depression Association of America. To find the lists that these mental health organizations have compiled, you can go to their website. Many of the organizations have a webpage that is dedicated to finding a counselor in your area. Some of these, such as the Anxiety and Depression Association of America are focused on mental health professionals with experience with particular problems, such as anxiety and depression.
Look into your workplace benefits for mental health.
If you work for a company that offers mental health benefits as part of an employee benefits package, you can get a list of mental health providers from them. Some companies provide mental health therapy options through an Employee Assistance Program. Utilizing these benefits can be helpful for reducing the cost of your benefits; however, it can also limit the types of providers that you can see and your employer is entitled to know if you attend therapy sessions.
If you are in school, look for mental health benefits there.
Many mental health benefits are now being offered at school. If you are the parent of a child with a mental health concern, look and see if their school has a school counselor or school-based therapist. Some schools have therapists that are contracted to go out to schools and provide therapy directly to children and teens at school. If this seems like something that may benefit your child, ask your school how you can get your child involved in this program.
If you are a college student, look into your college's student health center for referral options or therapy options on campus. Many universities offer counseling clinics that provide low-cost therapy to college students. These universities may also offer walk-in clinics for emergency mental health concerns, psychological evaluations, and ongoing counseling for difficulties with transitions. Often, you don't need a referral to be seen by these university counseling clinics and they have the added benefit of therapy being offered right on your campus.
If you live near a large university, consider their options for therapy.
Many large universities have clinical psychology training programs or medical training programs where students and trainees provide mental health therapy under supervision by a licensed professional. Although some may be concerned about receiving therapy from someone who is considered a student, these trainees are typically under the supervision of a licensed professional who oversees their work. The student/trainee receives frequent input from their supervisor about working with you and the best ways to address your mental health concerns. Another added benefit of being seen in one of these clinics is that many of these clinics offer services at a reduced rate or on a sliding scale. You can be seen by a psychology doctoral student, counselor in training, or pre-licensed clinical social worker for half the cost of a licensed professional while still receiving great therapy.
Narrow your search for a therapist according to your most important criteria.
Now that you know where you are going to begin looking for a therapist near you, you can get specific with what qualities you want your therapist to have. You want to make sure that you find a therapist who will support your needs.
If you want a psychologist, therapist, or counselor, it is important to type in the specific mental health provider you are looking for. It may be helpful to search for "Psychologists near me" while including the location or area that you are living in.
At the same time, you want to make sure that you can find a therapist that will be able to work with you. Being sure to find a therapist who works with people within your age range is important. Some therapists only work with kids and adolescents, while other counselors only see older adults. Knowing who your therapist will see will help you find a therapist that is a perfect fit for you.
You also want to make sure that your therapist works with people who have your mental health disorder or your mental health challenges. If you are struggling with anxiety or depression, you may want to search for therapists who specialize in cognitive behavioral therapy. If you are struggling with chronic pain, it may be helpful to find a counselor that uses acceptance and commitment therapy.
Often, therapists will include information on their website about what types of clients they work with. On some of the search engines (e.g., Psychology Today), you can filter to find therapists near you who specialize in anxiety, depression, and other mental health concerns. You can also find therapists who are using teletherapy or in-person therapy by filtering through these websites. They also offer the option to filter by your insurance benefits, if you are choosing to use your insurance benefits for mental health therapy.
Schedule an initial consultation for therapy with your therapist.
When you find a therapist who seems like they are a good fit for you, it can be helpful to schedule an initial consultation. An initial consultation is a way to figure out what your therapist specializes in and to learn more about their personality and conversation style. These initial consultations for therapy can sometimes be scheduled online through the therapist's website. Many therapists will have a button or contact form to schedule an initial consultation. If these options are not available, contacting the therapist's telephone number may be a helpful first step. Your first consultation will likely be 15-30 minutes long and will be held virtually or over the phone.
Schedule Your Initial Consultation Today
Prepare some questions for your initial consultation with your therapist.
Before your initial consultation with your therapist, you should have a list of questions prepared to get to know your therapist better. Many of these questions should go back to what you are looking for in a therapist. Some questions to ask a potential therapist include "What types of therapy do you provide?" and "What type of training do you have in helping people with anxiety and depression?" If you are looking for someone who offers sliding scale fees for therapy, be sure to ask, "Do you offer reduced cost services or a sliding scale for paying for therapy?" If you are interested in virtual therapy because the therapist is not close to you, ask about how often they see clients, limits of confidentiality, and how you can get in contact with them. You will want to find the therapist who is the best fit for you by asking these important questions.
Assess potential therapists when "looking for a therapist near me."
Before you decide that you have found the best therapist for you, you have to assess them to make sure they are the right fit for you. The initial consultation will be very helpful for identifying if you have found the best possible therapist for your mental health concerns. It's important to consider the therapist's education, training, licensing, and years of practice. Knowing their background is an important first step, but it's important to look at other things too.
During the initial consultation, you will get a much better understanding of their personality and strengths. They will also get to know you better and understand if you are a client that they feel they can effectively help to address your mental health concerns. After your consultation, you should take time to process how the meeting went. If you do not feel comfortable with the therapist, you do not need to schedule a therapy appointment with them.
Schedule consultations with multiple providers until you find the right therapist for you.
In fact, it may be helpful to schedule initial consultations with multiple providers to find the best therapist near you. Just as you look around for houses and cars, you can also shop around for therapists. Many therapists may look like great fits online for your anxiety or depression; however, they might not all be the best fit for you once you are able to actually speak with them. The only way you will know who is the best fit for you is by talking with multiple mental health professionals in your city. After meeting with different therapists, counselors, and social workers, you can have a better idea of who might be the best therapist for you.
If at any point you feel that a therapist isn't right for you, you can find another therapist near you.
Even after you have found a great therapist near you after the initial consultation, that doesn't mean you need to stay with them forever. After the consultation, many therapists will schedule an intake session where they will get to know your background and what brought you into therapy. It can take a few sessions to get to know your therapist and to truly understand if they are the best therapist for you. If after you start therapy you realize the therapist you initially chose is not a great fit, it may be a good idea to schedule another consultation with a different therapist. It is okay to look for a different therapist near you if who you thought would be a great therapist after your initial consultation, turns out not to be as good of a therapist as you were hoping for.
If you decide to take a break from therapy and start back later, you may decide to return to the same therapist, or you may choose to see a different therapist. You may find that one therapist is great for you as a college student, only to find you are looking for something else years later. It is okay to change therapists to find the best therapist. If you move, you may also have to find a new therapist in your area and search again for local therapists.
Now that you know how to find a therapist, it's important that you start therapy as soon as you are ready. You have already made the difficult decision in realizing that your mental health concerns are too difficult to handle alone and that you need professional help. Whether it's with a therapist, counselor, social worker, psychologist, or psychiatrist, it's important to find a mental health provider that fits your needs. The best thing that you can do is find a mental health professional who can support your unique mental health needs.
Don't Put Off Your Mental Health. Find a Therapist Today!