Everyone's weight loss journey is different, and no one tactic is universally applicable to achieve success. There are countless diets, exercise plans, supplements, and holistic techniques to choose from when you're beginning to research how to lose weight. The overwhelming number of strategies that exist can become daunting, causing many people to quit before they even begin. Whatever approach you choose to take, journaling your weight loss process is a game changer.
By journaling for weight loss, you'll be able to track your progress as well as notice which diets or exercises aren't necessarily working for you. On days you don't feel motivated, your journal can provide you inspiration to keep going. Whether you journal daily, weekly, bi-monthly, or sporadically is up to you – but check out these five keys to journaling for weight loss to start working towards your goal.
Create Awareness
One of the most beneficial parts of journaling for weight loss is having the new ability to track your habits. Many people choose to diet using a calorie-specific plan based on their BMI. It's easy to not pay attention to how many calories we are actually consuming, especially when we don't plan ahead. However, the best way to jump-start your weight loss is making sure you are in a calorie deficit. A calorie deficit is achieved when a person consumes less calories than the amount needed to stay at your current weight.
While there are tons of apps that can help you track your daily intake, a lot of people find the act of writing it down is more effective. By taking the time to record your meals and calculate your calories, you're investing more energy and effort – causing you to be more mindful with your eating. This awareness is important during your weight loss journey as it shows you how consistent or inconsistent you're being. On days you're feeling less than motivated, you can refer to previous pages in your journal and quickly pull meals where you've already added up the total calorie count.
It's a known fact that weight loss is part diet and part exercise. It's extremely eye-opening to write down what physical activity you're doing daily in order to keep yourself accountable. When you're just starting out with an exercise routine, it doesn't always come naturally. By recording your fitness regimen, you'll be able to create a set of exercises that work for you. Knowing how much cardio and strength training you do is also important for future goals. Once you begin to get more physically fit, you can look back on your journal entries and see where you can challenge yourself more.
Have SMART Goals
The decades-old tool called "SMART Goals" is a go-to strategy for businesses across industries. We often find ourselves having very lofty, admirable goals with no idea how to accomplish them. This conundrum ends up being very defeating and causes people to lose sight of logic. Using SMART goals doesn't just apply in the workplace, it is an effective way to make sure the goals you're setting can actually be reached instead of remaining a pipe dream. Weight loss can be especially hard for dreamers as they set out to drop pounds and get fit with extremely unrealistic vigor. Incorporating SMART goals into your weight loss journal will help you successfully work towards your end goal without becoming overwhelmed or burnt out.
The acronym SMART stands for Specific (simple, sensible, significant), Measurable (meaningful, motivating), Achievable (agreed, attainable), Relevant (reasonable, realistic and resourced, results-based), and Time bound (time-based, time limited, time/cost limited, timely, time-sensitive). It's not hard to see why these descriptors are important to have in your weight loss journey; you won't stick to something that is vague. This will look different for everyone, but even taking the time to draft your SMART goals will help you see if you're headed in the right direction. As you move forward, your goals might be reached and you'll need to set some new ones. Utilizing this tool will only help you find motivation and confidence as you start to see items being checked off your list.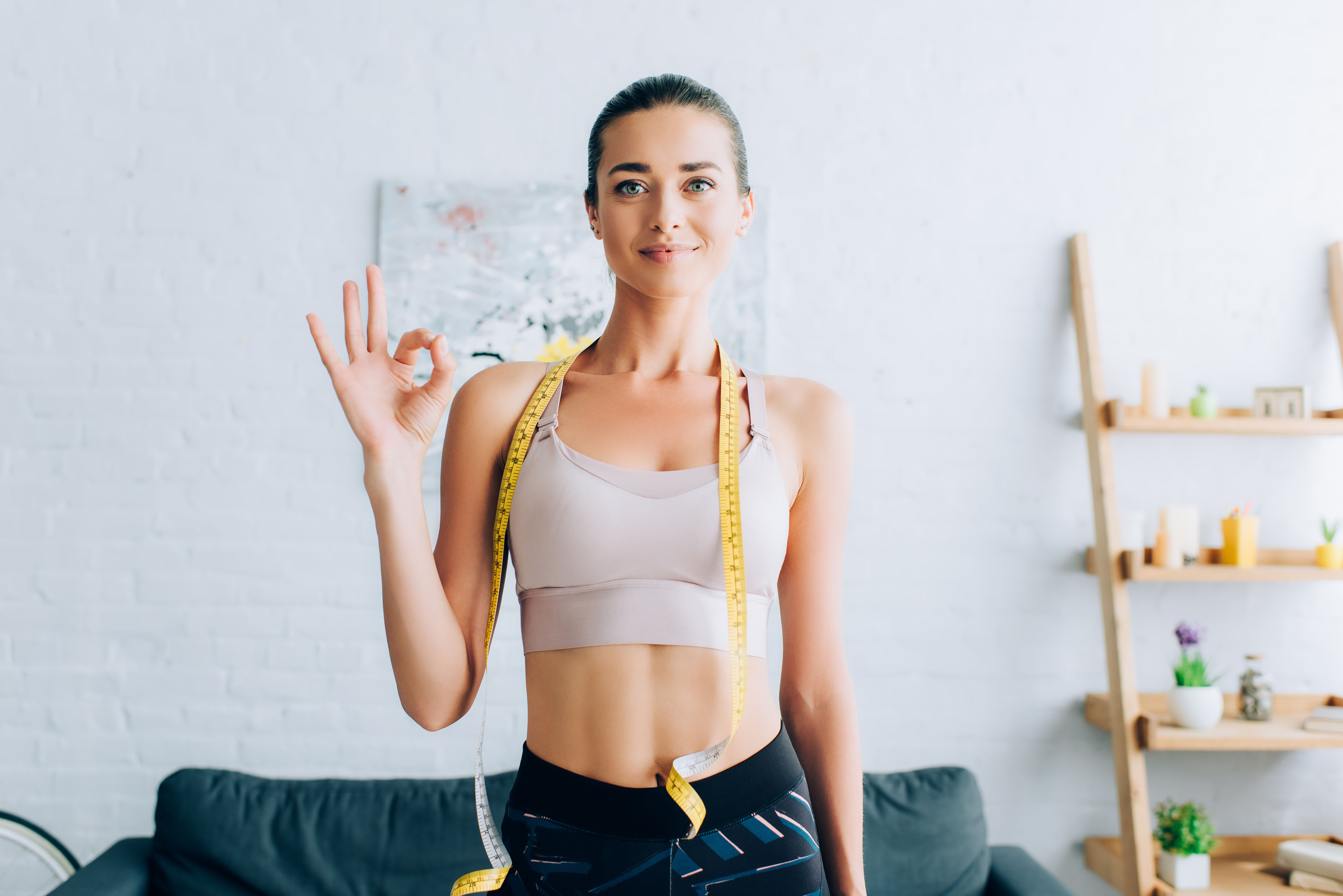 An example of SMART goals being used in your weight loss journal might look like this: Specific - I want to lose 20 pounds. Measurable - I will do 30 minutes of cardio and 30 minutes of strength-training daily. Achievable - I will carve out 1 hour in the evening Monday, Wednesday, and Friday. Relevant - I will also track calories, eat healthy, and support a healthy lifestyle. Time-bound - I will reach this goal in 2 months time. If you stay true to your word and are diligent about journaling your weight loss journey, SMART goals will increase your chances of success.
Include Inspiring Prompts
On your path to weight loss, some days will inevitably be harder than others. No matter our circumstances, no day is perfect and a rough patch is bound to occur. These bouts of bad times can be especially damaging to our motivation and drive. There are ways to be proactive to make sure you are at least progressing, even if today's effort wasn't as perfect as yesterday's. One key to making sure you stay on track is picking out weight-loss related journal prompts for your "off days" to ensure you're resetting your mind. You can write your own prompts, or you can find a set of them online.
Journal prompts help with any sort of writer's block, but having specific prompts for your weight loss journey will solidify your focus. You can switch things up between being technical or personal, short or long, or even completely free-flowing. As long as you are recording something that has to do with your goals, you are still putting in the work. Though it may seem counterintuitive, getting out your anger towards your body image/exercise/a new diet can actually be extremely cathartic. Releasing your emotions into words allows you to see them for what they are, and sometimes they can even become laughable.
Ask yourself questions that matter to you. Why do you want to lose weight? What does your ideal body feel like? How will weight loss benefit your quality of life? What will you treat yourself with once you reach your goal? What are you struggling most with? Who has motivated you on their weight loss journey? Reflect on these questions and record a meaningful response. Don't just throw your journal aside afterwards – take a few moments to meditate on the experience and what you feel like after getting everything out. This may be the only weight loss associated activity you can muster that day, but you may be surprised to find out your outlook has completely changed and you're now ready to hit the gym.
Get Creative
Your weight loss journey is unique to you, and the way you go about it is entirely in your hands. You may be more detail-oriented and meticulous about details; your journal could resemble a very technical log of meals and exercises. You might be more of a dreamer who likes to have a vision; your journal could be filled with manifestations, inspiring pictures, and ideal images of yourself. Whatever kind of journal you have, it's fun to get creative with your new habit. If you're super Type-A and organization is your jam, Bullet Journals will become your new best friend. Meal planning, grocery lists, calorie counting, water intake, and workouts galore – you can record to your heart's desire in this trendy form of journaling.
If you have more of an artistic side, you can use pages of your journal as mini vision boards. Cut out pictures and quotes that motivate you and paste them right onto a page. Visualize exactly what you want for yourself and take time to picture what it will be like once you get there. Include words that you want to describe your new body and health, incorporating affirmations that will inspire you to keep going. This activity is especially helpful on days when your weight loss journaling might feel monotonous; you can try something new that will get you in a different flow and help you remember why you started in the first place.
As with anything, you have to approach something difficult as a challenge, not a task. Your weight loss journey might have moments of frustration, but keep pushing no matter what. Getting creative with your weight loss journal will breathe fresh air into this habit and keep it from becoming tedious. Think outside-of-the-box and you'll find yourself on a roll. Many people find that switching things up actually increases their motivation and brings them new ideas in terms of meals or exercise. Don't let yourself get caught up in the day-to-day, think big and big things will happen.
Record Resources
As you do your research and gather information about weight loss, you're bound to find resources that you don't want to forget. You can use part of your weight loss journal as an archive of tools to have on hand. Write down popular YouTube trainers, diets you want to try out, suggested workouts from friends, supplements you'd like to try, or new approaches to weight loss you're interested in. Having a record of resources will come in handy on days when you're drawing a blank. You'll thank yourself for being proactive and thinking ahead. Don't let the list become too long and be purposeful about what you're recording. It's important to strike a balance between being well-informed and overloaded, so pay attention to what you're writing down.
Some people like to write down weight loss facts and statistics in this section of their journal. Think of it as a "study guide" for losing weight. This could include recommended amounts of reps with weights, what a calorie deficit looks like for you, the science behind exercise, or even foods that accelerate weight loss. Write down terms you don't recognize and look into them. The world of health and fitness is big, and ever-expanding, so knowing as much as you can is vital if you want to find what's right for you. If you're just beginning, you might not dive too deep and that's just fine. Go at your own pace and think of your personal goals.
Having a weight loss journal with built-in folders can be helpful for holding onto printouts you might want to reference. Recipes and exercise routines can be printed out and stored in a section of your journal if you don't want to write it all down. Whatever works for you is what's best – but many people find that being over-prepared keeps them from slowing down. Whip out a highlighter and call out important pieces of information you don't want to forget. Dust off your study skills from school and soak up all the knowledge you can get – you'll save time and effort while working towards your goals.
Write, Sweat, Repeat
Any meaningful transformation in life takes a mind, body, and soul effort. You never want to overwork one and ignore another, and weight loss journaling helps keep this balance. Don't put too much pressure on yourself, and try to make the experience enjoyable and reflective. You'll begin to understand yourself better and see where your strengths and weaknesses lie. You'll find comfort in knowing that you really are progressing, even when some days it feels like nothing has changed. Most importantly – you'll keep your word to yourself and find more accountability than ever before. What are you waiting for?