A Note from the Author
I want to start out by acknowledging the stigma regarding mental health within the church. Although there are some churches that have wonderful mental health outreach programs, as a whole, the church does a poor job of supporting and encouraging its members that struggle with mental illness. Don't give up on the church! The best way to battle a lack of awareness or ignorance is through education and providing churches with the skills and tools they need to be a support to others.
This guide is not a substitution for professional help. If you are currently struggling with anxiety, I encourage you to reach out to a counselor for professional help. In some cases, there is a genuine need for medication and/or intensive therapy. I pray that every Christian would understand that utilizing professional help or taking medication to manage symptoms is NOT a result of a lack of faith. God has given doctors, counselors, and scientists the skills and talents they possess to help them develop effective therapies and medications to treat a variety of conditions. Praise God for those good gifts! I hope you find peace and freedom in using the tools He has made available for you.
This guide is divided into two parts: Part One: Things Not to Say to Someone with Anxiety and Part Two: Using Scripture to Manage Anxiety.
Part One: Things Not to Say to Someone with Anxiety
As God's very Word, the Bible should be our number one source of comfort, peace, encouragement, and hope. But I'll be honest, as a Christian who struggles with anxiety, there are some verses that have become almost cliché to me. I'm not saying these verses aren't important or don't have their place, I know that is not true because I believe God's Word is inspired and inerrant. However, when I am in the trenches of the despairing moments that anxiety brings, hearing scripture misquoted or offered in a cliché manner it is not only unhelpful, but often hurtful. Below are some examples of what that looks like and why they are inappropriate and unhelpful.
"God says 'do not worry!'" (Deuteronomy 31:6, Matthew 6:25-34, Luke 12:22-31)
It is true that God tells us not to worry or fear, but that is only part of the passage. Quoting only the "do not worry" or "do not fear" part of the passage implies that anxiety is a switch that a person can turn on or off. It puts anxiety on the same level as sin, just like God says, "do not murder" or "do not commit adultery". The problem with this mindset is that sin is a conscious wrongdoing against God, whereas anxiety is often an unexpected or involuntary response to a stressor.
If we are going to point out scripture that says not to worry or fear, we must include the surrounding verses that say why – because God cares for us and provides for us. It is important to remind people with anxiety that they are not alone. They need to be reminded that God has not left them and does not love them any less because they struggle with anxiety. God will provide for their needs, although this doesn't always mean He will provide a quick fix or that no effort will be required on their part. What it does mean is, when Jesus tells us not to worry, we can trust that because of His love and compassion towards us, He has a plan to make that possible.
"You need to trust God", "have more faith, "faith over fear", "let go and let God" (Proverbs 3:5, Matthew 11:28-30, John 14:1)
The lie that is often believed surrounding these scriptures is that anxiety reflects a person's relationship with Jesus. If they are constantly worrying or living in fear, then they aren't trusting God. This may be true of some people, but for many Christians who suffer from anxiety, their trust in God is the only thing that keeps them holding on. Jesus may be their only hope that things could be better, and we don't want to take away that hope by blaming their anxiety on a lack of faith.
If we want to offer scripture that talks about having faith or trusting in God, then we need to offer it paired with practical steps a person can take to find relief from their anxiety. For example, "have faith that God can use the tools He has given you (counselor, medication, special diet, breathing exercises, etc.) to reduce your anxiety."
"God won't give you more than you can handle" (1 Corinthians 10:13)
I have to be honest; this is one of my biggest pet peeves. Not just about anxiety, but about anything! The saying comes from 1 Corinthians 10:13 which says God will provide a way for you to escape any temptation you face. This scripture is about temptation and sin, it is not about the trials and suffering we experience in this life. And it certainly doesn't imply that God won't ever give us more than we can handle. In fact, the exact opposite is true. Sometimes we are given more than we can handle so that we would grow in a deeper dependence on God.
Instead of suggesting that someone with anxiety needs to pull up their britches and just handle it, encourage them to lean more and more on Christ. When they feel weary, point them to the power of the cross. When they feel despair, point them to the God of hope. When they feel like giving up, point them to the eternal reward that is waiting as they endure. Come alongside them and "handle it" with them.
"Why are you stressed about _____? God works all things together for good", "everything happens for a reason" (Jeremiah 29:1, Romans 8:28)
You wouldn't (shouldn't!) say "God will use this for good" to someone who just lost a loved one, or to an addict in the middle of detox, or to a cancer patient on their deathbed. So, why do we say this to people struggling with mental illness? Anxiety can be traumatizing and the last thing someone in distress wants to hear is "God will use this for good." While that may be true, in the moment all they hear is, "God is letting you suffer and struggle so much so that one day someone else can benefit from what you went through or so one day you will be a better person."
The possibility of future good coming from their suffering doesn't help relieve anxiety but pointing out the ways God has already used their struggle for good can be a major source of encouragement. If you want to remind someone God works things together for good, try to focus on the ways you have already seen that play out in their life.
"You should be thankful for the things that are good in your life" (Proverbs 12:25)
This is the biblical version of "things could be worse!" and what person wants to hear that when they are in the middle of a struggle? Often a person struggling with anxiety is unable to see the good things in their life because they are blinded by their worries and fears. Suggesting they simply need to be more thankful 1) diminishes the real problem and causes feelings of invalidity, 2) assumes they are not thankful, and 3) blames the person for their anxiety (i.e., if you were more thankful/positive you would be less anxious).
Gratitude can be a great way to combat anxiety, but it should be suggested as a tool just like deep breathing, journaling, bible study, or counseling. It should never be suggested in a way that provokes guilt, shame, or feelings of condemnation. if you'd like to learn more about gratitude journals you can check out articles here or here.
Part Two: Using Scripture to Manage Anxiety
John 10:10 says, "The thief comes only to steal, kill, and destroy" and 1 Peter 5:8 says, "Your adversary the devil prowls around like a roaring lion, seeking someone to devour." It is Satan's mission to destroy our lives, and if we think that our mental health is off limits to his wicked schemes, then we are leaving the door wide open for his attack. Friend, you are at war with the adversary and the best tool you have is the living, active word of God (Hebrews 4:12). But how do we use this weapon we have been given? Three ways that I have found extremely beneficial are meditating on scripture, journaling scripture, and listening to others speak scripture. I will go into more detail on each of these as well as provide some specific examples.
Meditating on Scripture
Reading the Word
A quick google search for scripture about anxiety pulls up many of the verses referenced above. After experiencing the emptiness found in clichés and commonly quoted (or misquoted) scripture about anxiety, I learned that I had to start reading my Bible differently to find scripture that helped me with my anxiety. Instead of searching for verses that specifically had the words "anxiety", "fear", or "worry", I started looking for how all scripture could help manage my anxiety. One way I do this is by paying attention to what scripture says about God's character and then contemplating what that means for my life.
There are thousands of words that could be used to describe God's character; to make it simpler, I like to use Tim Chester's "4Gs". I will link his book in the resources section, but the table below gives an overview of the 4 G's. Typically, when I am feeling anxious, it is because I am seeking control, I am worried about what others think of me, or I am looking for satisfaction in my circumstances rather than in Christ. These are exactly the things the 4 G's address.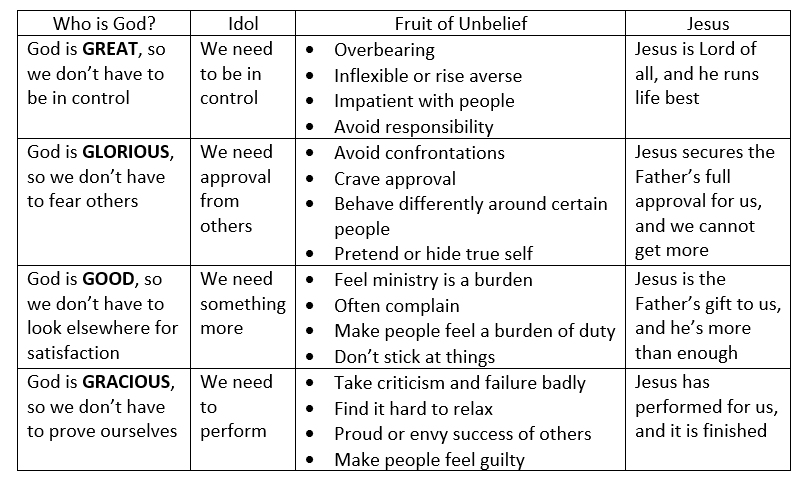 Here's how this looks in my Bible study. The verse of the day on my Bible app today is 1 John 4:18, "There is no fear in love, but perfect love casts our fear. For fear has to do with punishment, and whoever fears has not been perfected in love."
God is Great – God is sovereign and always in control. My fear of feeling out of control does not come from a place of love; it comes from a mistrust in God's plan. God has loved me perfectly so I should let His Spirit work in me to perfect my love for Him so I can respond to Him with trust instead of fear.
God is Glorious – God loves me with an unconditional, perfect love. I do not have to fear what other's think of me or worry about being left out because I am fully accepted and loved by God. I am free to be who God created me to be and live my life to please Him rather than others.
God is Good – It is not God's intention to harm me, He is a good Father who gives good gifts. God is love and there is no fear in love. The fear and anxiety I experience is NOT from God. The hard or scary things in my life are not a punishment from God. I can rest in His goodness and trust in His provision to get me through those moments.
God is Gracious – In His perfect love, God sent His Son to die for my sins so now I have access to His grace. I don't have to be afraid of my imperfections because they are covered by God's grace. I can look to the way God loves me and extends grace to me as an example of how I should love myself and give myself grace instead of constantly fearing I don't measure up.
As you read through scripture, consider the following questions as well: Is your anxiety stemming from sin in your life that you need to confess and repent of? Are your fears rooted in a deep mistrust of God? Are you doubting God's power to bring you healing? Are you believing the lie that God doesn't approve of professional help or medication and therefore believing He doesn't want you to get better? Do you question the way God made you, the way He wired your brain and the personality traits He put in you? Whether you use the 4 G's or not, look for the ways scripture reveals who God is and how you should respond in light of those truths.
Memorizing the Word
Have you heard the saying, "find your people"? It refers to those go-to friends, the ones that have your back no matter what situation you are going through. Just like you have trusted friends you go to, find your go-to scripture. What are the verses that bring you comfort or peace? What verses fill you with hope? What verses pump you up or give you endurance? Once you find those verses, memorize them so that you always have them in your arsenal when you need to fight anxiety.
For me, the Book of Romans is full of these verses. Specifically, Romans 8:38-39 and 15:13 are ones I often recite to myself.
"For I am sure that neither death nor life, nor angels nor rulers, nor things present nor things to come, nor powers, nor height nor depth, nor anything else in all creation, will be able to separate us from the love of God in Christ Jesus our Lord." Romans 8:38-39
This reminds me that nothing can separate me from the love of God. Nothing! Not my fears, doubts, or insecurities. Not my anxiety. No matter what my emotions are telling me, I can come back to the truth that I am secure in Christ Jesus. I don't have to worry about what is happening in the world, or the "what ifs", or what Satan is scheming because those things hold no power over Jesus and His love for me. I can't mess up so bad that God quits loving me. I can't worry myself away from God. I know that no matter how much I sin, how many times I fail, or how often I let my emotions get the best of me, God's love and presence is not withheld from me
"May the God of hope fill you with all joy and peace in believing, so that by the power of the Holy Spirit you may abound in hope." Romans 15:13
When I am feeling hopeless, I remember that I serve the God of hope. I don't serve a magical genie or the god of quick fixes, so it is unreasonable for me to expect God to act in a way that is out of His character. Romans 15:13 tells me what I can expect from God – hope, joy, and peace. This doesn't mean I can expect an easy, happy, stress-free life or that I will enjoy every circumstance I experience. I think this is where a lot of us experience anxiety. We know bad things happen, and we stress ourselves out wondering when and how they will happen. So often I find myself worrying about what may happen and trying to prevent it or fix it myself instead of allowing the Spirit to work in me and fill me with the hope, joy, and peace that only comes from God. This verse reminds me that God is the God of hope because He is in control. I can let go of trying to control everything and abound in hope when I rest in His goodness and trust in His plan.
Praying the Word
Praying through scripture is a great tool, especially if you have any anxiety or fears about praying itself. I can be sure that God hears my prayers and is pleased with them when I am saying His own words back to Him. I can also have peace knowing that when I pray through scripture, I am praying in accordance with God's will. Look at Colossians 1:9-14 and then read the sample prayer based on this scripture.
"And so, from the day we heard, we have not ceased to pray for you, asking that you may be filled with the knowledge of his will in all spiritual wisdom and understanding, so as to walk in a manner worthy of the Lord, fully pleasing to him: bearing fruit in every good work and increasing in the knowledge of God; being strengthened with all power, according to his glorious might, for all endurance and patience with joy; giving thanks to the Father, who has qualified you to share in the inheritance of the saints in light. He has delivered us from the domain of darkness and transferred us to the kingdom of his beloved Son, in whom we have redemption, the forgiveness of sins." Colossians 1:9-14
God, thank you for the people in my life who I know are praying for me. I pray you would give me knowledge of your will regarding my anxiety. Please give me wisdom and understanding as I seek your Word for comfort and guidance. Help me to live my life in a way that is pleasing to you. I pray that my anxiety does not cause me to sin against you, but that it would help me to grow in my relationship with you as I learn to fully depend on you. God, I know that regardless of my emotions, you can use me. I pray that you would use me for good works that bear fruit and lead others to know you. Please strengthen me on the days I feel like I am paralyzed with fear, give me endurance on the days I feel like giving up, give me joy on the days I am frustrated by my anxiousness, and give me patience as I wait for healing, whether that comes in this life or in Heaven. Help me to always be thankful for the gifts and talents you have given me and let me not be afraid to use them for your kingdom. Thank you for the hope I have in your Son and that through Him I have victory over all the sin and brokenness in my life. In Jesus's name, amen.
Taking time to rephrase scripture as a personal prayer for my life helps me better understand the passage and figure out how to apply it to my life.
Journaling Scripture
Journaling has been proven to help relieve stress and anxiety. When you pair journaling with scripture, you not only create an outlet to express your worries and fears, but you also reconnect to God's Word and internalize it. (You can find out more about bible journaling here Benefits to Keeping a Bible Journal) Journaling is a great way to become more self-aware and it can be a great way to share what you are feeling with others when speaking it may feel awkward or confusing. There are many types of journals you can keep, but the three that have helped me the most with anxiety are truth journals, prayer journals, and bible journals.
Truth Journaling
Truth journaling in essence is this: 1) write out your thoughts, the good, bad, and the ugly; 2) go back and number your thoughts; and 3) using scripture, write the truth for each lie (thought). This process gives you all the benefits of journaling by letting you get things off your chest but also points you back to the Bible so you can rejoice in the truth found in the Word of God. Below is an example of truth journaling.
Today my kids asked to go to the park across the street.
We go there all the time as a family but the thought of taking all three kids by myself terrified me. God has not given me a spirit of fear (2 Timothy 1:7)
I was sure that while I was watching one kid, another one would run into the road or get hurt. God did not make a mistake when He gave me my children. They are a gift from Him and He loves and cares for them even more than I do (Psalm 127:3, Matthew 19:14)
I'm not a good enough mom to watch all of my babies and keep them safe. God has equipped me to care for my children (Hebrews 13:21)
Why can't I be like other moms who have it all together? I cannot compare my heart to the outward appearance of others, I don't have the full picture (Luke 18:9-14, 2 Corinthians 10:12)
I'm such a bad mom. I don't need to condemn myself. God has freely given me grace so I can give grace to myself (1 John 3:20, Ephesians 2:8-10)
The kids were upset we couldn't go, and I don't blame them. My children are upset because they didn't get their way. This is developmentally appropriate. Instead of letting this get me down, I can use this as a teaching moment (Proverbs 22:6, Ephesians 6:1-4)
My anxiety keeps my kids from enjoying their lives. When I feel like I am a burden to my children, I can cast my burdens and fears on Jesus. He will give me rest, peace, and endurance because He cares for me (Matthew 11:28-30, Psalm 55:22, 1 Peter 5:7)
Journaling this event didn't get rid of my anxiety right away and cause me to take my kids to the park, but it did help me identify the lies I was believing about myself and about God. With the help of a counselor, I was able to replace the lies with truth and reflect on those truths the next time my kids asked me to take them to the park.
Prayer Journaling
A prayer journal is something that can be beneficial over time. When I write out my prayers it gives me the opportunity to go back and review what I have been praying for. This helps me identify recurring worries or fears and sin patterns. But what I think is the most helpful about a prayer journal is that over time I can go back and see how God has answered my prayers. Seeing how God chose to answer my prayers gives me hope and encourages me to keep praying for the things I am struggling with.
Bible Journaling
Bible journaling is a creative way to study your Bible which involves reading scripture and then responding to it through art, prayers, or notes that are made right in your Bible. Expressing your emotions through art can be very therapeutic and calming. When I use art to express my response to scripture, it makes me think deeper about the scripture I read and mediate on it while I draw or write. Just like my prayer journal, I enjoy looking back at my bible journal and seeing how certain passages impacted me, what I learned from them, or what emotions the passage evoked. Below are a couple examples of bible journaling.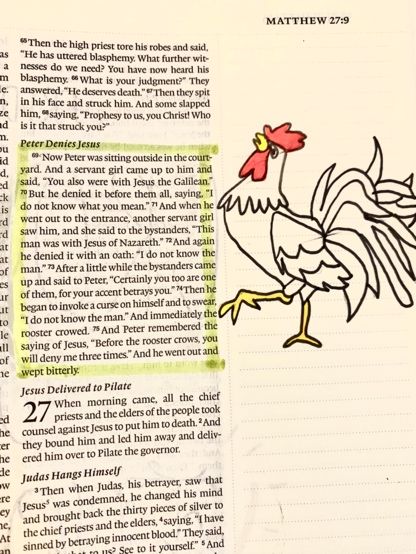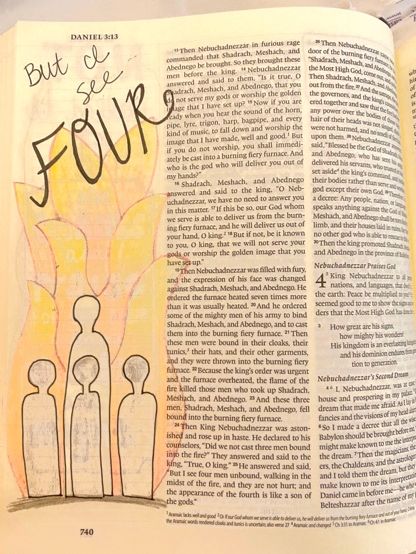 Listening to Others Speak Scripture
One of the best things you can do to fight anxiety is to surround yourself with people who will remind you of truth. I truly believe a wholistic approach, that incorporates both evidenced-based and faith-based techniques, is what is necessary for the best results. It is important to find people who will encourage and support you as you seek both. Whether it is friends, family, a mentor, pastor, counselor, or author, listen to how God uses their words to bring you wisdom, encouragement, comfort, and healing.
Listen to Those Closest to You
This one may require some patience and coaching on your part. When our friends or family members haven't experienced anxiety, it can be hard for them to know the right thing to do. Be honest about how you are feeling and let them know how they can help. Share your go-to scriptures so they can recite them back to you. Ask them to pray for you and give them specific things to pray for. Pray that God would use them as a source of encouragement and comfort. Listen to those closest to you as they point you back to God and His Word.
Listen to the Church
God has a way of using His messengers to deliver the perfect word at the perfect time for us. If you haven't already, search for a good, Bible-teaching church where you can be fed the Good News every week. Sometimes hearing scripture through someone else's perspective brings new meaning to it, so it is important to not only study your Bible, but to hear it taught as well. Consistently hearing the Word of God proclaimed is a great source of hope when you are in the midst of anxiety.
It may also be helpful to try to find others within the church who struggle or have struggled with anxiety. Finding someone with a shared experience is always helpful because it reminds you that you are not alone. It can be even more beneficial when you know their advice and encouragement comes from the same set of beliefs that you have.
Don't forget, the church is not limited to the building you enter on Sunday mornings. Search out people who love Jesus that are knowledgeable about anxiety. God has equipped many pastors, speakers, and authors to teach on the subject through sermons, podcasts, conventions, and books. I want to urge you to do your research first though. Before listening to the advice of a so-called "expert", find out more about them. What do they believe/what denomination are they affiliated with? What kind of education do they have and where did they go to school? Do they have a history of anxiety? The internet and bookstores are full of self-help resources, and some can be excellent tools. However, often the self-help genre offers empty promises of "do 1-2-3 and you will be fixed". Be diligent to research preachers, speakers, and authors before you dig into what they have to offer.
Listen to Professionals
If you are looking for professional help, consider what you want to get out of counseling. Below are descriptions of different types of Christian counselors and how they can help you.
Pastoral or biblical counseling is provided by a pastor and their main focus is scripture. Pastors receive their training at seminary and typically have little, if any, background in psychology. Pastors will be knowledgeable about the Bible and will be able to help you study your Bible, encourage you, and pray with you.
There are counselors who are Christians. Typically, these counselors hold a degree and licensure in psychology or counseling and work in secular settings. They will be able to provide you with evidenced-based techniques and can incorporate scripture and prayer if you request it.
On the other hand, there are Christian counselors. These professionals usually have a background in both psychology and theology and believe in incorporating scripture and prayer, as well evidenced-based techniques.
Regardless of what type of counseling you pursue, do research to find out what type a counselor someone is, what therapies and techniques they use, and what their core beliefs are (if you are seeking Christian counseling). Communicate with your counselor to make it clear what your expectations are. Be honest about what you are feeling and experiencing and then be open to what they have to say. Most importantly, don't settle. If something doesn't feel right or if your beliefs do not align with your counselors, find a new one. Counseling will not be successful if you do not trust or feel comfortable with your counselor.
Conclusion
Anxiety can feel overwhelming and isolating at times, but you are not alone. God is always with you, and He cares for you deeply. He has provided resources and tools for you to utilize to help manage your anxiety and He has also placed people – friends, family, pastors, mentors, and professionals – in your life to walk alongside you and help you through your toughest moments. I pray you would seek out these resources and people and use them to find peace, comfort, and hope. If we can help you here at JournalOwl, we'd love to be part of your healing.
Resources
Everyday Church: Gospel Communities on Mission by Tim Chester
Get Out of Your Head by Jennie Allen
Articles on Fear and Anxiety on The Gospel Coalition's website