If you're looking for a creative and customizable way to organize your life, you may want to try bullet journaling. While it's not for everyone, it can be a great way to stay organized and create pretty pages.
Before you get started, it's important to understand what you're getting into. So, let's take a look at what bullet journaling and morning pages are all about.
It's a way to be creative
If you are a creative person, you may be looking for a way to express your thoughts and ideas in a different manner. Bullet journaling and morning pages are a great way to do this.
The first thing to know about bullet journaling is that it doesn't have to be difficult. You can create a journal that is simple and uncluttered, or you can go all out with colorful layouts and fancy design elements. You can even use washi tape and stencils to add a little flair to your pages.
Another reason that bullet journals are a good choice is that they help you to be more productive. You can set goals, track your progress, and schedule events in your journal. This will make it easier for you to stay on task and complete your tasks within the allocated time frame.
Besides, bullet journaling can also be a great way to record memories. You can write down your favorite doodles, monthly covers, and even music playlists.
In order to get the most out of your bullet journal, you should keep in mind that it's best to practice regularly. It will allow you to improve your skills and become better at the process.
You should also be open to changing your mind about what you want to do in your journal. This will give you a sense of ownership over your journal and help you to feel like you are making a lasting impact on it.
If you are interested in bullet journaling and morning pages, it is important to understand that you need to be patient. It takes time for your creativity to develop and grow, so don't worry if it feels like you aren't getting anything done right now.
The morning pages are a practice that Julia Cameron introduced in her book The Artist's Way, which is a book designed to help creative people who are blocked and frightened. It is an exercise that helps people to overcome the negative voices in their head and reclaim their creative selves.
Writing your morning pages can help you release your creativity and boost your productivity. This is because it allows you to clear your brain and shoo away all the nonsense that comes with day-to-day life. It will also help you to reclaim your inner voice and build trust in your intuition.
It's a way to destress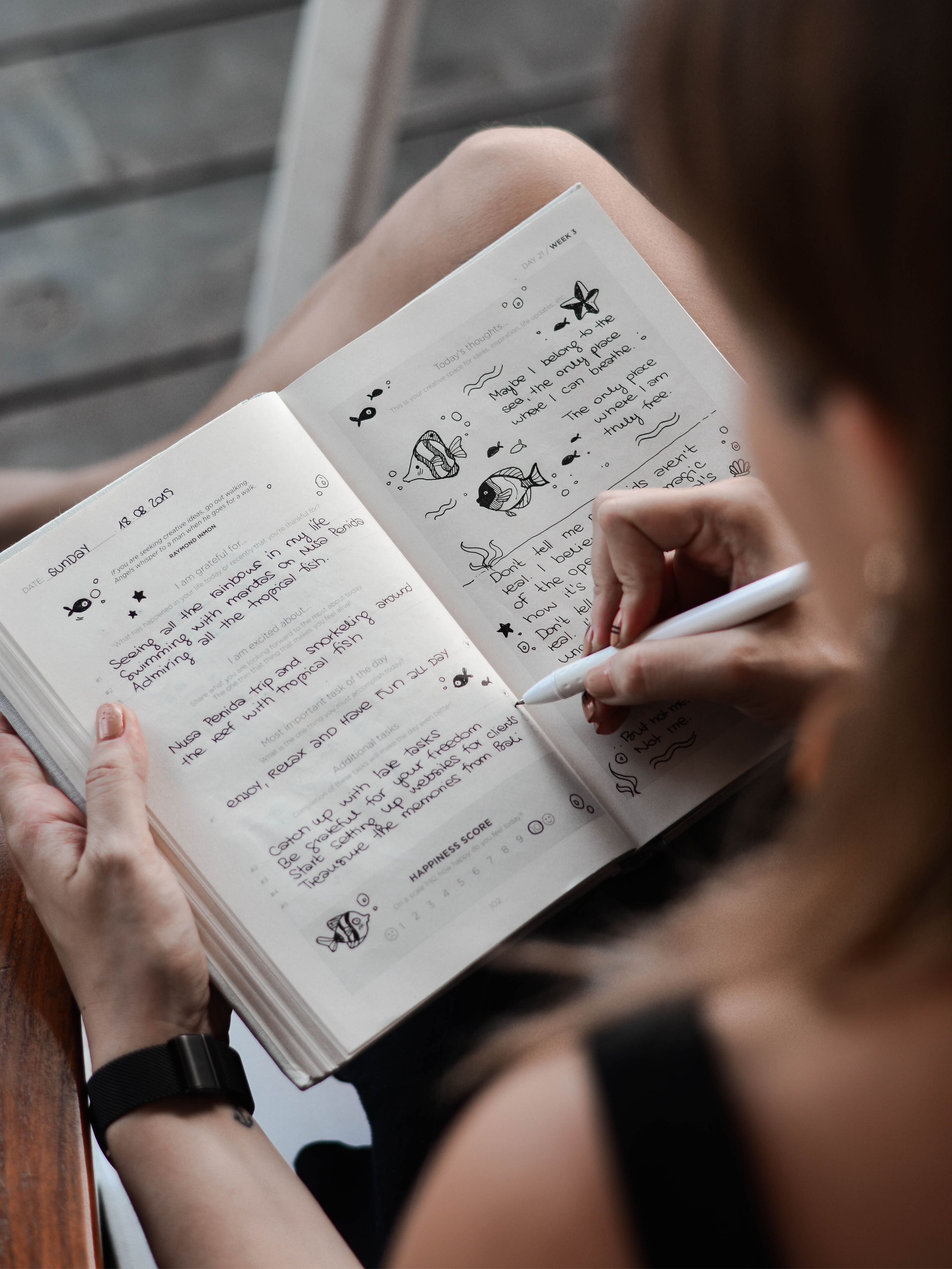 Bullet journaling can be a great way to relieve stress. It's a way to free up mental space by writing down all of your thoughts, lists, and appointments in one place. It also helps you prioritize your tasks, which can reduce stress and anxiety.
You can even use your bullet journal to track your mental health goals. This can help you stay on track with your wellness goals and make positive changes to your lifestyle.
To get started, you need to decide how you want your bullet journal to work for you. Do you want it to be a calendar, a to-do list, a diary, or something else?
Getting started with bullet journaling can be tricky. The best thing you can do is to keep it simple and manageable. That means choosing a journal that you like, and finding supplies that will add to the joy of the process.
For example, if you're not a big fan of pens, choose a pen that you like and will feel excited to use every time you sit down to write. That can help you develop a habit of journaling and build your confidence in this new skill.
It's also a good idea to find a theme for your bullet journal. For instance, if you're trying to be healthier, you may want to create pages that list your daily steps, meals, and exercise schedules.
You can also use your bullet journal to jot down quotes and inspiration. These are a great way to get your creative juices flowing and de-stress.
The key to making your bullet journal a great tool for your mental health is to keep it real. Don't compare it to the pretty layouts you see on Instagram or Pinterest! Instead, focus on using it for you and what you need.
For many people, bullet journaling is a way to destress because it allows them to free up their minds and organize their lives. It also helps them learn to prioritize their tasks and remember important events. This makes them more productive and happy.
It's a way to be organized
For many people, getting organized is a top priority. They churn through notebooks, planners, and apps in an effort to find the perfect system. But most of the time, they end up with one that doesn't work for them and leaves them feeling frustrated.
Fortunately, there's a simple solution for this problem. It's called bullet journaling. It's a hyper-organized way to track your goals, schedules, and daily tasks, but it also comes with an added bonus: it can be a great creative outlet.
A bullet journal (or BuJo, as participants often call it) has sections for logging daily to-dos, keeping a monthly calendar, recording notes, and tracking your health. There's even a "future log" that lists important events, deadlines, and goals. And to make things even more flexible, there are symbols for notes, events, and tasks to help you categorize and prioritize your list.
It's an excellent way to get your mind off of the stressors of daily life and focus on the present moment. Moreover, it's a great tool for brainstorming new ideas and planning out future projects.
In addition, it's an excellent way to declutter your mind and get rid of negative thoughts. By taking the time to write down and sort through your thoughts, you'll be able to identify the patterns and problems that are causing you pain.
This process can be especially helpful if you're an artist. By allowing your creative side to take over, you'll be able to come up with more interesting and unique pieces.
If you're an entrepreneur or manage a household, this is also a great way to brainstorm new business ideas and keep track of your daily tasks. You can even use these pages to record random ideas, which can be a great resource for your next project.
The main difference between a traditional journal and a bullet journal is that you'll write in bullet points instead of full sentences. This makes it easier to update and organize your journal when you're on the go.
The first thing you'll need to do when starting a bullet journal is set up an index page. This is a page where you can number each of your journal's pages and keep track of all the ones you've created so that you can easily find them when you need them.
It's a way to improve your relationships
Bullet journaling is a way to organize your life and make yourself more productive. It's a flexible system that you can evolve as you learn what works best for you. It's also a great way to practice self-care and build mental strength.
You can use your bullet journal to track your mood, exercise, spending habits, and other health goals. Keeping track of these can help you stay motivated to stick with them and achieve your goals.
Another way to use your bullet journal is to create a morning page to start each day off on the right foot. This can include a to-do list, goals you have for the day, and some motivational quotes. It's a simple and effective way to boost your confidence and focus on the day ahead.
Writing down your feelings is a cathartic activity that can help you release negative energy and improve your relationships with others. Creating a space for this can be beneficial for anyone dealing with depression or anxiety, and it can be an excellent tool for focusing on your goals and improving your overall mental health.
If you're a beginner, it's important to start simple. The first thing you need to do is purchase a journal with a lay-flat spine and high-quality paper. You'll also need a no-bleed pen.
The next step is to sketch out your bullet journal layout. This will allow you to get the form and function of your journal down without the stress of trying to make it look pretty. Save any embellishments for later, but keep your pages simple and reusable.
When you're ready to try out a different layout, just switch up your supplies a little bit. Instead of using dual-tip pens, you might consider getting a brush pen or even colored gel pens to draw and paint your pages.
Your index page is a crucial part of your bullet journal system. You can add a date line to it or color code it by category, but the most important thing is that you have a place to put all of your pages in order.