The Bible should be our guide and the standard by which we live but studying it and trying to apply it to our lives can be confusing. The inductive method is a way to study the Bible that considers the text's background information (author, original audience, the cultural or political climate, date written, genre). By understanding this information, we can have a better comprehension of the text's original purpose and then apply it to our lives. The inductive method can be summarized in three parts – observation, interpretation, and application.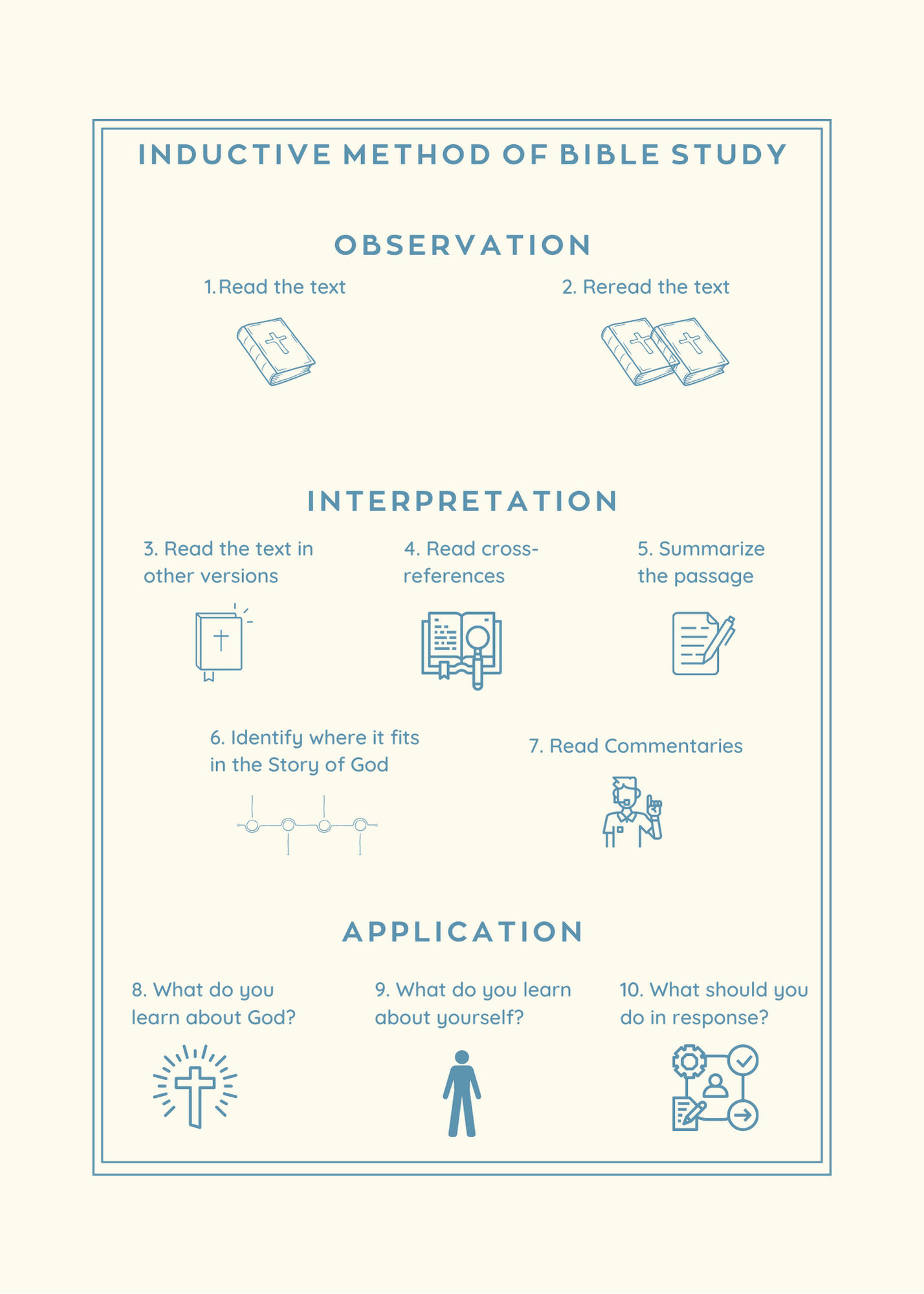 Observation
Step One: Read the entire passage.
Reading just one verse puts us in danger of taking it out of context. By reading the entire section, we can get the gist of the text's main theme.
Step Two: Read the text again.
Reread or listen to the passage multiple times. This can help you pick up on things you may have missed the first time. As you read, mark the text (highlight, underline, etc.) to identify repeated words, words you don't know, themes, figurative language, names and places, and commands.
Apply the Inductive Bible Study Method to Genesis
Interpretation
Step Three: Read the text in other versions.
Different versions of the Bible have been translated in different ways and for different readers. Sometimes reading the text in another version can bring more understanding. JournalOwl provides all versions of the Holy Bible in electronic format 100% free to the world.
Step Four: Read cross-references.
Cross-references will lead you to other verses or passages about the same topic. They may also show you when the author is referencing or quoting another passage in the Bible.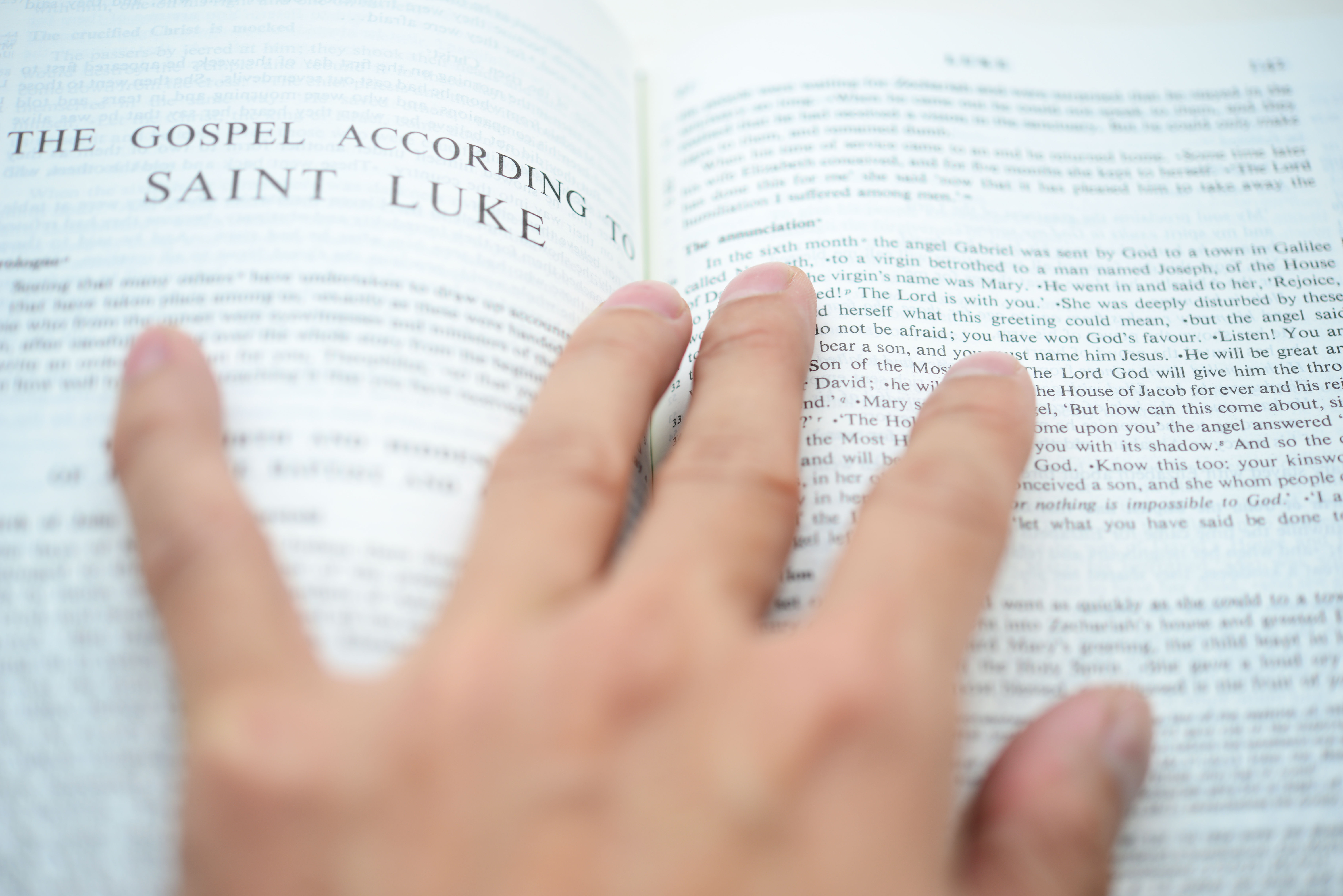 Step Five: Summarize the passage.
Try to write the main ideas of the passage in your own words. This helps you slow down and see if you really understand what is going on in the passage.
Step Six: Pinpoint where the passage fits in the overarching Story of God.
God's Story is made up of four parts – creation, fall, redemption, and restoration. Look for how the passage addresses these parts of the Story.
Step Seven: Read commentaries.
Commentaries are other scholars' summaries of a passage. Be sure to check the authenticity of a commentary and make sure it comes from a trusted source.
Application
Step Eight: Identify God's attributes.
Look for how the text reveals God's character – does it show He is loving, merciful, just, powerful, good, holy, sovereign, gracious, etc.?
Step Nine: Identify what you learn about yourself.
As you consider God's attributes, what does that reveal about you? For example, if God is sovereign, what does that reveal about your faith, trust, or desire for control?
Step Ten: Identify what you should do in response to the text.
Considering who God is and what He has done, what should you do? This may be a direct command from Scripture or a more abstract idea such as "grow in faith."
With JournalOwl, we make it easy for you to apply the inductive Bible study method to elevate your understanding and comprehension of God's Word. You can pick from one of our 66 pre-created Bible Book journeys and methodically work your way through the Holy Bible. Each chapter of a journey includes a hand-picked devotional video or Pastor-led sermon, scripture to read, and a series of questions for you to answer in journal format.