Back to all Michigan online counseling therapists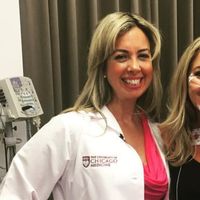 Claim Your Profile
Profiles are Free with JournalOwl®
Get Matched with Journalers
Grow your Therapy & Coaching Business
Collect e-Payments Online
Securely Message Your Clients
Trade Secure Video Talks
Live Secure Video
Assign Journaling Tasks as Homework
Create Journaling Challenges for Clients
Grow Your Practice by 20x!
Lisa Medalie
Psychologist
---
About
Hi everyone!
I have been studying sleep since I shadowed my first sleep doctor in high school. Through my training years, I found that there were very few doctors trained in sleep, probably because the field of sleep is still in its relative infancy compared to other areas of healthcare.
I developed DrLullaby as a way to improve access to evidence-based solutions given how few insomnia specialists there are compared to how many children and adults struggle with sleep. I believe all families should have access to quick solutions that work.
I've seen firsthand in my clinics that when sleep improves, life is less stressful. I started DrLullaby as a cost-effective way to teach children and parents the same strategies they learn in my clinic.
Try DrLullaby so you can have less stress, easier nights and finally get some time back to yourself!?
?
Contact Information
Teletherapy
Specialties
Anorexia Nervosa
Anxiety
Attachment Disorder
Binge Eating Disorder
Bipolar Disorder
Body Dysmorphic Disorder
Borderline Personality Disorder
Bulimia Nervosa
Depression
Narcissistic Personality Disorder
Obsessive Compulsive Disorder
Panic Disorder
Schizoaffective Disorder
Schizophrenia
Social Anxiety Disorder
Academic Life
Addiction
Aging
Divorce
Existential Crises
Family
Grief
Multicultural Issues
Relationships
Social Media
Sports
Stress
Trauma
Weight Loss Surgery
Career & Work Life
Are you a mental health professional? Get listed in the JournalOwl directory today!
---
Advice
Disclaimer: Public data sources were used to compile the information on this coach profile. This coach, therapist, or psychotherapist may not have a JournalOwl account. JournalOwl maintains a worldwide database of teletherapists. We do not make any guarantees or promises about the accuracy of the data on this coach profile page and will not be held responsible for any damages or losses incurred by consulting with a coach found on the JournalOwl teletherapist directory.