Back to all North Dakota online counseling therapists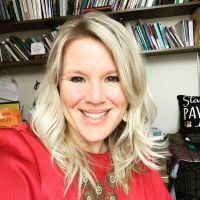 Claim Your Profile
Profiles are Free with JournalOwl®
Get Matched with Journalers
Grow your Therapy & Coaching Business
Collect e-Payments Online
Securely Message Your Clients
Trade Secure Video Talks
Live Secure Video
Assign Journaling Tasks as Homework
Create Journaling Challenges for Clients
Grow Your Practice by 20x!
Amber Gorman
Counselor, PhD, NCC, LPCC-S
---
About
I grew up in a small North Dakota community, and have always valued my connection to rural ways of life. I am delighted to be able to offer quality mental health services; look forward to providing services in rural areas where access to counseling services has not always been readily available.
I began my clinical practice in northern New York after earning a Master's degree in college/agency counseling from the State University of New York - Plattsburgh in 2002. later completed my PhD in Counselor Education and Supervision( NDSU 2015) while continuing my clinical practice. I am a National Board Certified Counselor (NCC) since 2002 and have attained the highest level of licensure, Licensed Professional Clinical Counselor (LPCC) in North Dakota. Additionally, I am a North Dakota Credentialed Clinical Supervisor.
During my early clinical career, I worked in local non-profits providing services to adolescents, couples, individuals and families while also providing counseling groups for at risk youth struggling with anger and body image concerns. Additionally, I spent five years working to support patients and families who were experiencing acute mental health crises and who were entering the mental health system via the emergency care center. My last decade of service has focused on working with individuals pursuing higher education degrees and presenting with a wide range of concerns from life transitions to acute mental health concerns. Additionally, I have a passion for education and have been a counselor educator since 2006, specializing in courses related to trauma, acute mental health conditions, and multicultural concerns. You may find more information about my professional career here!
Personally, I am most at home in nature in the company of animals and my family. I enjoy competing in competitive canine events with our family dogs including agility and obedience and volunteering in our community as a Pet Partners registered volunteer therapy team.
Location
Fargo Street
Menoken, ND 58558
Contact Information
(701) 419-8702
Teletherapy
Specialties
Anorexia Nervosa
Anxiety
Attachment Disorder
Binge Eating Disorder
Bipolar Disorder
Body Dysmorphic Disorder
Borderline Personality Disorder
Bulimia Nervosa
Depression
Narcissistic Personality Disorder
Obsessive Compulsive Disorder
Panic Disorder
Schizoaffective Disorder
Schizophrenia
Social Anxiety Disorder
Academic Life
Addiction
Aging
Divorce
Existential Crises
Family
Grief
Multicultural Issues
Relationships
Social Media
Sports
Stress
Trauma
Weight Loss Surgery
Career & Work Life
Are you a mental health professional? Get listed in the JournalOwl directory today!
---
Advice
Disclaimer: Public data sources were used to compile the information on this coach profile. This coach, therapist, or psychotherapist may not have a JournalOwl account. JournalOwl maintains a worldwide database of teletherapists. We do not make any guarantees or promises about the accuracy of the data on this coach profile page and will not be held responsible for any damages or losses incurred by consulting with a coach found on the JournalOwl teletherapist directory.