Back to all Ohio online counseling therapists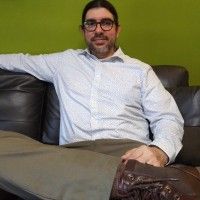 Claim Your Profile
Profiles are Free with JournalOwl®
Get Matched with Journalers
Grow your Therapy & Coaching Business
Collect e-Payments Online
Securely Message Your Clients
Trade Secure Video Talks
Live Secure Video
Assign Journaling Tasks as Homework
Create Journaling Challenges for Clients
Grow Your Practice by 20x!
Carl West
Clinical Social Work/Therapist, LISW, CHT, MSW, M Arch
---
About
In an effort to provide the best care we have carefully considered our responsibility to you and ourselves considering the current Coronavirus pandemic. At this time, our clinical office is open with increased health precautions and adjustments to encourage health, safety and continuity of service. Please read the following statement.
We ask that you refrain from coming to the office if you have any cold or flu symptoms including cough, sneezing and fever even if you believe these symptoms are attributed to a condition that is not COVID-19. You may be asked to leave without being seen by your provider if you exhibit these symptoms to decrease the risk of infection. From 3/16/2020 until an undetermined time in the future when the threat is stabilized we will waive the reservation fee if you must cancel due to illness or because you do not feel safe leaving home and cannot notify your therapist at least 24 hours in advance. We still encourage you cancel your appointment at least 24 hours in advance.
If you have school age children who are not sick, please bring them with you to your appointment if necessary.
The main door to the office suite will remain open during clinical hours to reduce the spread of germs via the door handle. Only your clinician should open and close the door to their own office. Hand sanitizer will be available in each office for use when you arrive for your appointment. The office staff is wiping down and spraying surfaces with antiviral (ie. Lysol, Clorox) products multiple times a day. Kemper Pond Office Park is similarly adopting more frequent sanitization of surfaces in the building. We are coordinating to ensure that there are never more than 9 people in the office to comply with state the state mandate.
All of the psychotherapists at Integral Insights Counseling, LLC now offer HIPPA compliant teletherapy/virtual therapy. We will keep you updated, as we hear from insurance companies, regarding any fee changes as well.
As always, please come to us with your questions or concerns
Location
1329 East Kemper Road
Springdale, OH 45246
Contact Information
Teletherapy
Specialties
Anorexia Nervosa
Anxiety
Attachment Disorder
Binge Eating Disorder
Bipolar Disorder
Body Dysmorphic Disorder
Borderline Personality Disorder
Bulimia Nervosa
Depression
Narcissistic Personality Disorder
Obsessive Compulsive Disorder
Panic Disorder
Schizoaffective Disorder
Schizophrenia
Social Anxiety Disorder
Academic Life
Addiction
Aging
Divorce
Existential Crises
Family
Grief
Multicultural Issues
Relationships
Social Media
Sports
Stress
Trauma
Weight Loss Surgery
Career & Work Life
Are you a mental health professional? Get listed in the JournalOwl directory today!
---
Advice
Disclaimer: Public data sources were used to compile the information on this coach profile. This coach, therapist, or psychotherapist may not have a JournalOwl account. JournalOwl maintains a worldwide database of teletherapists. We do not make any guarantees or promises about the accuracy of the data on this coach profile page and will not be held responsible for any damages or losses incurred by consulting with a coach found on the JournalOwl teletherapist directory.